TEAM BUILDING WITH INDOOR CLIMBING
Explore our climbing events with team building at climbing gyms all over Sweden.
Increase collaboration in your company with the help of indoor climbing.
Explore our team development activities at climbing gyms throughout Sweden. Strengthen teamwork and the sense of 'we' in your company through teambuilding and indoor climbing. Fredrik enhances these activities with inspiring lectures!
Do you want to take your business to the top? Is your company in need of a close-knit team to handle future challenges and reach future goals? Do you believe that fitness reduces sick leave and encourages employees? In this case, indoor climbing with Fredrik Sträng is the perfect thing for you! Fredrik offers a variety of teambuilding, and group activities that strengthens the we-can-do-it attitude. We even have mobile climbing walls!
Fredrik Sträng talks about "The power can move mountains ®," an attitude and approach to life that makes us successful and more equipped to handle challenges. More about the lecture >>>
After the lecture, we head to the climbing gym, receiving a safety briefing from the instructors.
Next is the "Climbing challenge." The teams will collect letters scattered across the roof, accessed by various climbing routes. Once the teams have collected the letters, they will form a word.
The following exercise is getting out of a rope tangle. Then, on time, try to make as many knots as possible and name them.
Finally, there is the speed climb duel. Different teams are competing against each other to climb the route the fastest possible.
we coach companies on the following themes:
WHY IS INDOOR CLIMBING A SUCCESSFUL TEAM-BUILDING ACTIVITY?
1. Novelty and Engagement: Unique experiences trigger the brain's reward system, enhancing engagement and memory.

2. Challenging Comfort Zones: Overcoming fear of heights boosts self-confidence and fosters a resilient mindset.
3. Shared Goals and Collaboration: Teamwork and communication during climbs improve trust and collaboration.
4. Psychological Safety: Open communication while climbing cultivates a safe environment for expressing ideas.
5. Mindfulness and Stress Reduction: Climbing requires focus, offering stress relief and relaxation benefits.
6. Physical Well-being: Climbing promotes health, aligning with the company's well-being focus.
7. Shared Memories: Climbing experiences create shared memories that strengthen social bonds.
8. Transferable Skills: Problem-solving and communication skills acquired in climbing translate to the workplace.
9. Positive Emotional Associations: Enjoyable experiences contribute to enhanced job satisfaction and morale.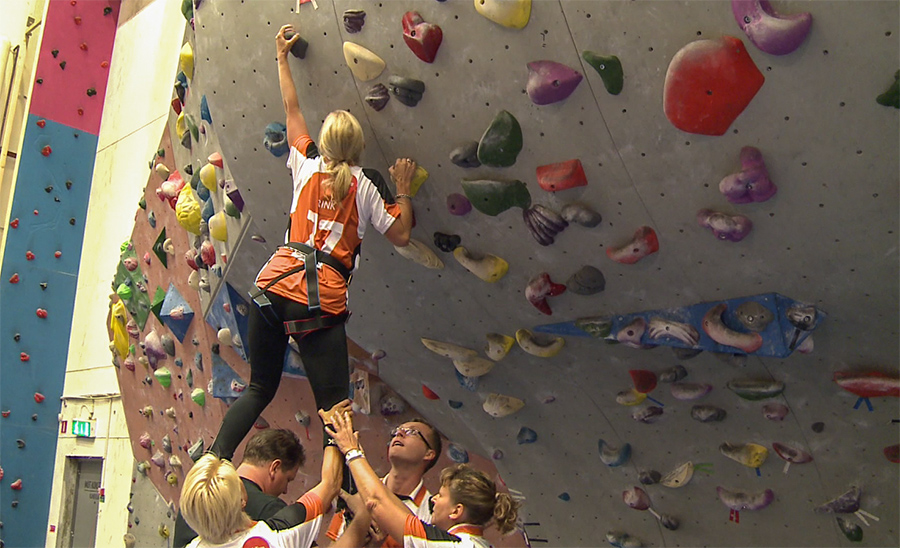 The activity can be carried out indoors all year round. Alternatively, we can come to your company with mobile climbing walls.
Half day incl. 2h climbing / 1h lecture Up to 25 people = 990: – / person > 25 persons = 900: – / person
This includes: Rental of climbing equipment, climbing activity, instructors, insurance and a lecture by Fredrik Sträng. All prices are ex. VAT.
Food: we recommend the buffet (regular price 185: – / person).
Price mobile climbing wall half-day activity:
Half day incl. 2h climbing / 1h lecture
Up to 25 people = 990: – / person
> 25 persons = 900: – / person
Are you in need of a conference room? Contact us for a quote.